All through the long winter, I dream of my garden.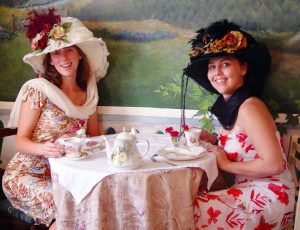 On the first day of spring, I dig my fingers deep
into the soft earth. I can feel its energy,
and my spirits soar. – Helen Hayes
Welcome Spring with a lovely, informal tea party in your back yard, or on your patio!
Edith Gilbert, our Entertaining and Etiquette Expert, shares some wonderful insights on tea parties from her book "Easy Entertaining":
"One of the most charming continental hostesses I know does much of her informal entertaining with 'little teas'; so much so, in fact, that she even had a large, low revolving coffee table made to order – a king-sized Lazy Susan – and on this she places assorted finger sandwiches, cookies, and cakes that taste as good as they look. In the summer, she moves this table onto a screened porch off the garden and serves iced tea in tall glasses with a sprig of fresh mint. It's a treat to visit with this jolly lady and to meet the medley of interesting people she always seems to attract."
"I've always yearned for just such a lovely revolving table, but unfortunately most of us have to make do with what we have: either a stationary coffee table, snack table, bridge table covered with a pretty cloth, or dining room table or patio table for a larger group. On this we set a tray with our teapot, cream and sugar bowls, cups, saucers and spoons, along with dainty napkins. Everyone helps themselves to an assortment of tiny sandwiches, mini muffins, or slices of fresh cinnamon toast on pretty little platters. Sweets such as cookies, coffee cakes, or brownies, mints or glazed nuts look especially tempting and take up so much less space when they're arranged on two- or three-tiered serving dishes."
Getting Ready for Your Guests
"How can we create a jovial mood that the stylish tea-time custom deserves? One way is to pamper our guests with tender loving care from the very moment they approach the house. I like to decorate the front door or entrance not only during the Christmas season, but for any kind of a party at home, or at a club with just a small accent that carries out the party theme and sings out a warm welcome."
"Have someone stationed inside the door to greet guests with a pleasant 'hello' and help them with their hats and coats; or, I like the whimsical idea of hanging a fancy bonnet over the bedroom door to help guide the way to this improvised coat room."
"Be sure to designate a bathroom for your guests and alert the family to beespecially careful to leave it as polished and bright as they find it. Convenient fingertip guest towels are available in disposable paper, linen or terrycloth in
attractive colors and designs. Keep a bottle of air freshener handy, check on the supply of toilet tissue, and place a few additional conveniences within easy reach, such as safety pins, aspirin, etc. A tiny fresh flower arrrangement or just a single perfect bloom next to the mirror is a cheerful touch."
A tea party is the perfect time to bring out your best tablecloth, fine china and silverware. An attractive arrangement of flowers should be your centerpiece. If you are entertaining in the fresh air, be sure to have an alternative area ready in your home should cool, inclement weather head your way.
Elegant Small Tea Menu
| | | |
| --- | --- | --- |
| Assorted mini-sandwiches | | Open-faced sandwiches |
| Toasted mushroom triangles | | Fresh fruit |
| Pecan rolls | | London tea squares |
| Coffee | | Spiced tea |
| Mints | | Nuts |
| Glass of sauterne or sherry – optional | | |
(All recipes are given in Edith Gilbert's book "Easy Entertaining", and you'll also find other tasty menus and party ideas.)
If you don't have the inclination or time to prepare food yourself, you can find many delicious options online, such as 
Brewing a Good Cup of Tea
Edith says, "There are four golden rules tea lovers from Ceylon to San Francisco agree should be followed:
For full flavor, bring fresh cold water to a full rolling boil (Water that has been preheated on the stove gives tea a flat taste.)
Preheat the teapot with hot water.
Empty hot water from teapot and refill with boiling hot water. Measure one teaspoon of tea for each cup of water.
Allow to brew in the pot from three to five minutes before pouring."
"Giving a tea party for five or twenty should be a joyful experience, and one should not be trapped in the kitchen refilling the teapot, coffee pot, creamer, and replenishing platters! Ask a close friend, sitter or relative, if necessary, to help do these simple chores for you."
For a final touch, choose some soft background music, and relax and enjoy the fresh air, friendly conversation and the smells of spring.
Oh, give us pleasure in the flowers today;
And give us not to think so far away
As the uncertain harvest; keep us here
All simply in the springing of the year.
Robert Frost