March 17
Wear a bit – O – the Green
Kiss the Blarney stone and look for a 4 leaf Clover..
St. Patrick, the patron saint of Ireland, is one of Christianity's most widely known figures. Although he is celebrated, his life remains somewhat of a mystery. Many of the stories traditionally associated with St. Patrick, including the famous account of his banishing all the snakes from Ireland, are false, the products of hundreds of years of exaggerated storytelling.
You can learn more about St. Patrick on The History Channel. There is also a video clip to find out the truth behind the mysterious Saint, and learn more about why this day is celebrated!
If you are having a party to celebrate the Irish in you, or the luck of the Irish…we have some fun party hats, blinking shamrock beads, and green clover decorations in our online party store.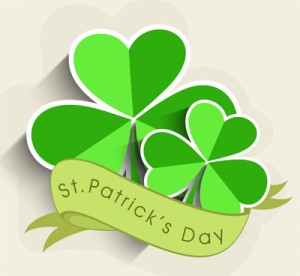 You will also find party leis, green derbys, four leaf crowns for the ladies, lime feather boas, and noise makers. There is also a party decorating Kit, garlands and cool green necklaces like Mardi Gras beads with shamrocks on them.
Plan your menu with Irish favorites: make some cabbage and corned beef, and some boiled potatoes for luck..Irish soda bread too! Have some green drinks, beer, or punch and have a few Irish song CD"S playing..maybe an Irish ballad.
Try potato art…kids will love it!
Cut a potato in half..peeled first..and carve a decoration in the flat side with a sharp carving tool..dip the carved part in finger paint spread out on a flat dish, and stamp the design on paper..Have a cool art contest.
Make up a tale of the tiny weefolk, and see who can add on where you leave off, for a huge tale…keep the story going till you get a real crazy finish.
If you want to make your own invitations, make a pot of gold..and a rainbow on the front…open the card, and let the guests know where you live at the end of the rainbow, and come have some Irish fun…write the address, date and time…and tell them to wear green…for good luck..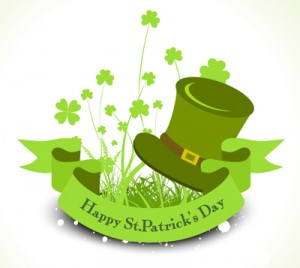 Here is a great chance to save 60% on a wonderful selection of fonts for St. Patrick's Day ! The Ascender St. Patrick's Day Font Pack contains five specially selected Irish, Celtic and Gaelic fonts that will help you celebrate St. Patrick's Day in style. Regularly $24.95 if purchased separately, it is on sale now for only $9.99. Also included in the Font Pack is a selection of five St Patrick's Day templates for Microsoft Word.
Have fun…and may the road rise up to meet ya, and the wind always be at your back.