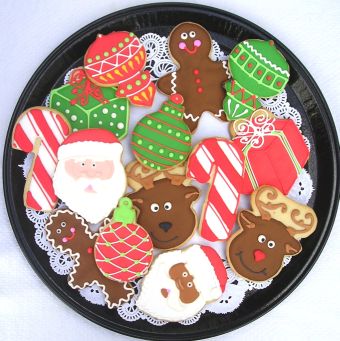 who to invite?
Keep the guest list small – 8 guests or less, depending on the size of your kitchen. You might have just family members, or your girlfriends, your book club, your church group, or your neighbors. Choose those people who get along well with others, and don't mind getting their fingers sticky. Guests could be any age or ability. Avoid whiney people, invite them to your 'whine' and cheese party in January!
Decorations
No need to decorate the tables – cookie and cake toppings are very colorful. If you need to protect your table top, cover with a plastic table cloth. Of course, a Christmas or holly decorated one will add to the mood. Have plenty of paper towels on hand.
Baking or Just Decorating?
You should decide ahead of time if you will have all of the cookies baked, ready for decorating, or if the party starts with mixing the cookie dough. Your guests could either bring undecorated cookies, or cookie dough. You decide and let them know in the invitation.
Another item to mention on the invitation – who gets to keep the cookies? Whether you just need help in baking and decorating, or will this be a decorate and take cookie exchange, let your guests know ahead of time. A plate, box or bag of cookies going home with guests is never refused.
Invitations
We've got two cute Santa invitations, traditional but you could make your own with recipe index cards or holiday postcards. The cardstock should be strong enough to be mailed, or placed in an envelope.
Refreshments?
Your guests will get thirsty, so you may want to have some beverages on hand. Ice water, juice, coffee or tea is always appreciated. Milk goes good with cookies, so you may want to have some on hand too! Have paper cups available for guests so you don't end up with a lot of dirty glasses along with the baking dishes.
Cookie Recipes Galore:
Baking Utensils and Pans
Cut-out cookies require lots of baking sheets. How many cookies are you baking, and how many cookie sheets will your oven accommodate? You'll need at least 3 (two in the oven at one time, 1 on the counter as your cutting cookies from dough. If you don't have several cookie pans, consider buying more or asking 1 or 2 friends to bring theirs. Having 8-10 pans may not be out of the question.
What kind of pan should you use? Martha Stewart has some great information on cookie sheets. Use a thin metal cookie turner to remove cookies from hot trays. Cool cookies on wire cooling racks, or clean newspaper. Again, if you have a very limited supply of racks, ask guests if they could help out by bringing theirs.
Delivering your cookies!
Paper bags
Plates
Boxes
Tins
Colorful paper bags with handles work well and are strong enough for short deliveries, but you'll want plastic or zip-lock baggies to keep the cookies fresh. Choose plastic bags that fit into the paper bags.
Some bakers put cookies on sturdy paper or styrofoam plates inside a quart or gallon plastic bag. A visit to your local dollar store might uncover some pretty glass plates to use.
Sturdy boxes, both shirt or square, are available at most craft and bargain stores. White boxes are the least expensive and let you add your own decorating touch. [paint, wrapping paper, stickers, ribbon, material]
Reusable cookie tins are always appreciated – wrap tissue paper around your cookies to prevent crumbling. You can purchase new tins, but you may want to check your pantry to see if you have a few tins hidden away. Only use tins that are free of rust – old ones can be put in the garage or basement for other uses.
Cleanup tip!
If you want the party to end at a particular time, start cleanup at least an hour before. That way, you'll avoid doing dishes at midnight…
Have fun, and try not to sample too many of the treats. There'll be plenty of time to enjoy them later. Enjoy !