Long Hot days?
Do this fun party instead of the traditional birthday bash.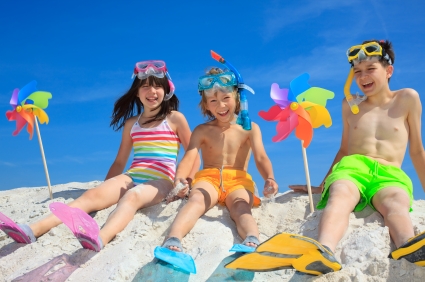 Plan and cook for this party and you will then be able to enjoy the day at the beach with everyone…a day full of fun and games.
First pick a date and place. A local beach with a safe place for the kids to play, and a time such as noon till 6:00 pm. Send invitations 2 weeks before, and make them out of paper shaped like a surfboard. Put the place, time and what to bring. Swimsuits and beach toys are a must, but also have everyone dress up in cutoffs and crazy T-shirts with a colorful logo on it. Straw hats or crazy beach head gear…the sillier the better! Have a contest to see who can dress the "Beach Bummest." Add sandals and sunglasses and you are set to have a blast. Make sure you have kid safe bug lotion and sunscreen for those rays.
For the menu :
Make plenty of fried chicken up ahead of time, coleslaw, and potato salad. Also some hard cooked eggs and brownies for dessert. (Plan at least 3 pieces of chicken per person, a half cup of potato salad, a half cup coleslaw and 1 brownie and hard cooked egg. Also a cold soda for each or a juice box or lemonade.
For each person, buy a plastic sand pail and shovel at the local dollar store or outlet dime store. Line each pail with a large bright paper napkin. Put a plastic fork and spoon in each one. Pails will be take home gifts, and can be used in the sand castle contest later in the day.
In each pail put your 3 pieces of fried chicken wrapped in foil.
1 Styrofoam cup with lid filled with half cup potato salad
1 Styrofoam cup with lid filled with half cup coleslaw
1 hard boiled egg in a small zip lock baggie
1 brownie in a zip lock bag
1 cold drink of your choice
Plastic fork and spoon
(Put these together at the beach, as you will need to keep the food chilled in a cooler till just before serving.)
Have family and friends help if a lot of people are invited. It helps to share the pre-cooking part so you don't have to be overworked or rushed.
Here are some games to play: Beach bum costume contest, or build a sandcastle with teams of young and old mixed. A water balloon between the knees relay, and diving for treasure in the water. Put bright objects in the water to find, a big bright colored painted rock, an old trophy, or any thing that will sink and be easy to spot underwater. Put things in the shallow end for the little ones to see and search for. Give out prizes for the contests like beach balls, sand toys and bright beach towels.
Have fun and be safe. Make sure all little ones have life-jackets on, and sunscreen too; plus plenty of adult supervision. This should be fun for the party planners too, as there's no cooking, and clean-up will be easy.
Brownies-
4 oz of unsweetened chocolate
1 c margarine
2 c sugar
4 eggs
2 t vanilla
1 c all purpose flour
1 c finely chopped walnuts
Melt chocolate over hot water. Cream margarine and sugar. Add eggs and mix well. Blend in melted chocolate, vanilla, and flour. Stir in nuts. Pour into greased and floured 9 x 13 pan. Bake at 325 degrees for 40 minutes. Makes 12 big brownies. Expand recipe as needed.