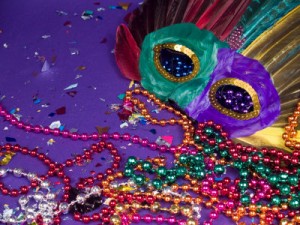 Mardi Gras Celebration
(Fat Tuesday), means Mardi Gras is on the way!!!
Celebrate and have a Great Party in Grand Style.
It's the time of year, where we have our last blowout till Lent begins on Ash Wednesday. This is a religious holiday, but anyone can join in the fun. It is a celebration of excess before we tone our life down, and live a plain life for the rest of Lent, until Easter.
We ply ourselves with good food, fun, and friends. Soon we will fast, and look on life's simple pleasures. Here are some great Mardi Gras decorating packages to order on our website, partydetails.com
For a Silver and Gold Party, check out the "Shimmering hats…and for all the Mardi Gras Kits..Look under Mardi Gras party favors..there's so much to see..and all your needs..Have a good look. The first actual Mardi Gras parade was held in 1857 by the "Comus" organization. This group coined the word "Krewe" to describe the different carnival groups, and they established the Secret carnival society that gave the carnival its colors, Purple, Gold and Green, and made the flag, and introduced "REX" or the carnival KING.. He is the parade grand master, and picks the Theme of the years Parade.
There is a special cake baked called the KINGS CAKE. Inside of the cake is hidden a small plastic baby, and the one who gets the hidden baby..is lucky, and has to host the next Marti Gras party, or make the next King Cake.
Some people like to throw colorful plastic beads, and plastic doubloons or coins. It's a thrill to see who can come home with the most beads and coins. Plan several games and hand the beads out as gifts.
Make the Kings Cake, and who ever gets the hidden baby in their slice of cake, can be the Queen or King.
Food is usually fattening..because soon fasting will begin..so plan on rich foods, and treats. Try fried chicken, baked ham, sweet potatoes, lobster, shrimp, and go wild on the sweets…Mardi Gras is the time to indulge yourselves.
Let The Good Times Roll as they say in New Orleans !!!