Celebrate America's Independence Day with a party on the 4th of July. Send invitations out, or just make it a family affair. Speaking of family gatherings, Summer might be the perfect time for a family reunion. When was the last time your family gathered together?
For decorations, use red, white and blue for the theme colors. Use flags and fresh flowers on the tables, and fill beach pails with water for the flowers. Fill some pails with small stones to hold the flags and sparklers as decorations. At dark, take the paper or cloth flags out of the pails so they don't catch fire when you light the sparklers for a festive end to the party!!
Decorate each table with navy paper tablecloths, red paper or plastic plates and red cups. Use white napkins and white plastic silverware. Choose fresh flowers that match your color scheme. Red carnations, white daisies, blue bells, etc. to mix and match with other colored flowers. Put the buckets or pails in the center of the tables and mix the ones with flags and sparklers.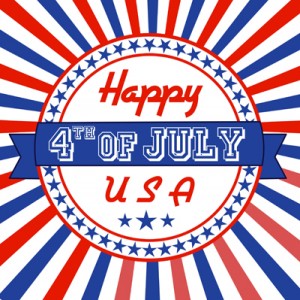 For the menu:
Plan on good old burgers and hotdogs – they really mean picnic! Potato chips with dip, pickles and olives, and fresh cut veggies like cauliflower rosettes, carrots, celery, green pepper slices, fresh mushrooms and cherry tomatoes are great snacking! Use a few veggie dips like dill dip, cheese whiz, or ranch for your fresh vegetables.If you want to go 'hog' wild, order tasty Filet Mignons
from Omaha Steaks for an extra-special dinner. Kick it up a notch with TABASCO brand Chipotle Pepper Sauce. Great for marinating and grilling.
Ask others in your family to bring a side dish like their famous potato or macaroni salad salad so you have a few favorites to sample from. Do the same for baked beans or coleslaw. You won't have to cook so much, and it's always fun to sample other home cooking! Keep track of who is bringing what so you know how much of each you will have on hand. Recipes…
Make a watermelon basket and fill it with fresh fruit for a light dessert for later. Cut a watermelon in half and scoop out the insides with a melon baller, set the balls aside in a seperate bowl. Cut several kinds of honeydew melons in half and discard the seeds. Then, using the baller, make melon balls and set them aside too. Add some grapes, both red and green, and several fresh strawberries to complete the basket. Fill the basket with the arranged fruit so they drape in layers of color and shape. (Do this the morning of the picnic so every thing is fresh.)
Be sure to have plenty of cold sodas, lemonade and iced tea on hand. Have your cooler filled with ice for your drinks. A pitcher or two of ice water with paper cups nearby is a nice touch also. Always keep your hot foods hot, and any of your salads with mayonnaise or salad dressing stored in a cooler and covered to prevent spoilage.
Whether you go to the beach, a park, or just in your own backyard, keep sunscreen on hand and child safe bug lotion for protection.
If you are lucky enough to live in a area where they have an evening fireworks display, perhaps you can end your day on a colorful note by attending the festivities with your family and guests. As always, be safe, enjoy your company, and have fun!